As part of our strategy, we are prioritising Equity, Diversity and Inclusion (EDI) across all areas of our work at UKCF and across our network.  
'Together21: Towards equitable and inclusive communities' enabled speakers from within our network and from the charity sector to share their learnings around inclusive grant making and the challenges that underrepresented groups face when applying for funding.  
Why EDI?

 
"EDI is really important for the UKCF network.  If we're to represent our communities, it's important that we reflect them and that we understand their issues in a meaningful way."

 
Rosemary Macdonald, CEO, UKCF

 
Communities are the places where people should feel like they belong.  They should be a safe and positive environment where support can be provided effectively to those who need it.  
"We can't talk about community without talking about equity.  UKCF believes that one size does not fit all."

 
Kaveed Ali, Director of EDI, UKCF

 
Community foundations represent their regions in unique ways, with local knowledge that has been formed through decades of place-based work.  
Increasing our network's understanding of EDI and working with experts from specialised EDI fields to improve grant services is no different and should be a huge aspect of any funder's practice.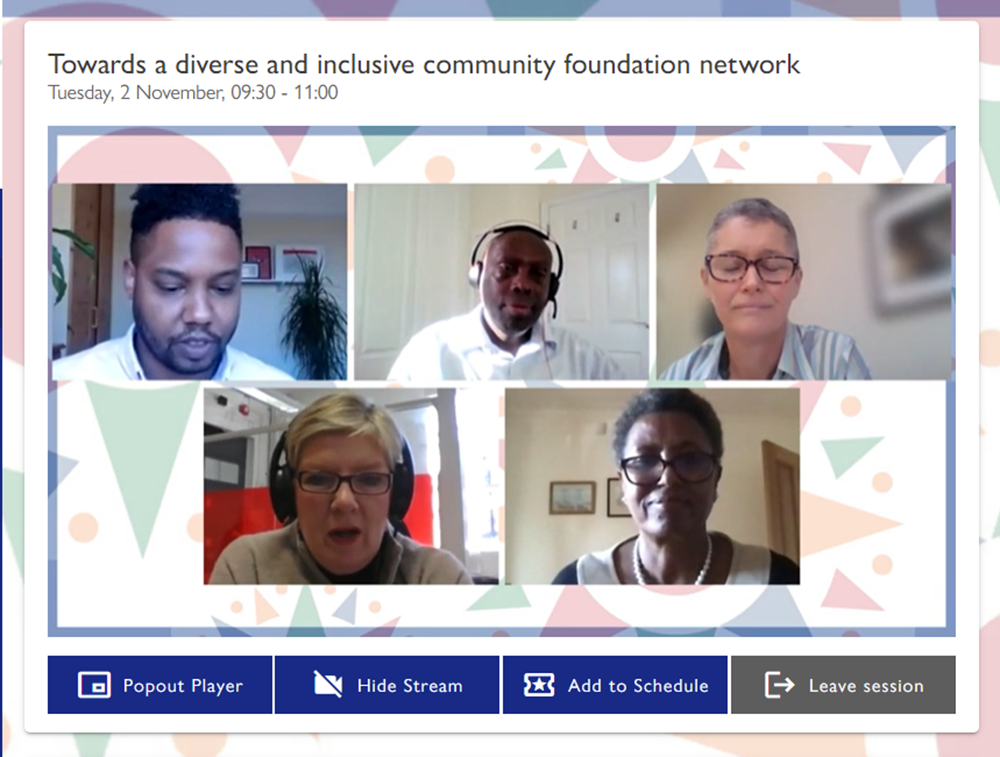 Hearing from our sector's experts

 
Among sector experts, we heard from The Kite Trust's Pip Gardner, who shared challenges faced by LGBT+ groups when applying for funds.  In searching for support, The Kite Trust "looks for an asset-based mindset, seeing the strengths and potential in the beneficiary rather than 'people in need'."  Pip went on to encourage funders to "challenge stereotypes – don't reinforce them. It can feel really easy to simplify human experiences." 
Our guest speakers delved into the challenges that overlooked groups have to contend with on a daily basis when trying to access complex, jargon-filled grants and restrictive short-term funding. 
"If things are going to be changed, conversations have to be started.  Community development is a process, and that process might take from one year to five years.  If you are going to support Ethnic Minorities, you have to think about long-term support."

 
In a session that looked at the damage caused by the power imbalance in funding, Fadi Itani of Muslim Charities Forum, the UK network for British Muslim Charities, explained that "there is nowhere that is 'hard to reach'.  If you extend your hand, someone from the other side will extend theirs."  
Karen Griffiths joined us from Sense, a charity that supports people with complex disabilities.  She described how inclusion should be considered in every aspect of an individual and organisational approach: "Accessibility is better for everyone.  If you can't connect, you can't take part in life."  Karen explained that, while organisations may be learning and developing their understanding at different stages, they should not be scared to start and should treat accessibility as "a creative challenge, not a barrier to creativity."
EDI through an investor's lens

 
We were delighted to have speakers from our headline sponsors, EdenTree Investment Management, share their knowledge around responsible investing and the current philanthropic climate in the corporate world. 
"We've seen an increased focus on people wanting to do good through their investments through the pandemic.  We've noticed there's been an increased focus in volunteering – a real rise in people giving personal donations as well as employees giving through their companies."

 
Leonora Rae, Charity Senior Associate, EdenTree

Investment Management
Their recent work with The London Community Foundation has provided sustainable and responsible funding on a rolling basis, creating long-term stability for beneficiaries to improve their core support within nearby communities.  
In discussing Environmental and Social Governance (ESG), EdenTree's Ketan Patel described the important role charities and ethical investors can play in including communities in the fight against the planet's climate crisis:
"The pandemic has acted as a huge catalyst for addressing the climate emergency and poverty.  We must save the planet, but we must bring people along on the journey, and the 'S' will drive the 'E' in this practice.  If a charity tackles the core target in an SDG (Sustainable Development Goal), investors will look closer at them."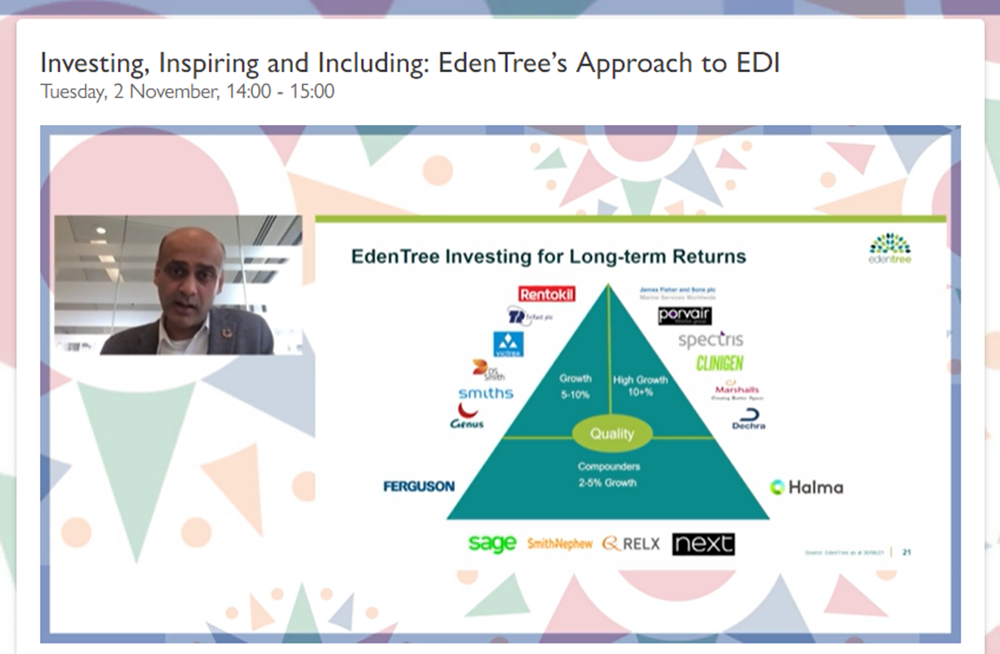 We also learned of the connected, rewarding experience that one donor, Reemal Rabheru, found when he worked with Milton Keynes Community Foundation, saying he wants to "do more to support the high diversity (in Milton Keynes) and play a part in teaching younger generations about philanthropy." 
"In general, philanthropists want to have a really engaged relationship with the charity they're working with." 

 
What's next?

 
Learning takes passion, patience and perseverance.  We, like many funders in the UK and around the world care deeply about the people and groups we serve and the changes that need to happen towards achieving more equitable and inclusive communities. 
"Change happens at the speed of trust. Be open, humble, honest, and willing to learn."

 
We are incredibly proud of the relationship community foundations have with community organisations and local people.  This open approach to learning new ways of engaging with people unlocks opportunities to design more effective, place-based grants.  
Our next steps will be to collect network-wide data on EDI to create new benchmarks, develop a shared EDI learning curriculum for our members and support network-wide EDI work through our EDI committee, to enable community foundations to set their own place-based targets. 
Our Director of EDI, Kaveed Ali, ended with:  
"The solution to meeting EDI needs, now and in the future, lies within our communities themselves and the incredible richness of their diversity."

 
In addition to those mentioned above, we are thankful to all of our remaining speakers who joined our convention, of which there are too many to fit on one page.  You have helped to shape our organisation's understanding and practice, and we look forward to working with you again in the future.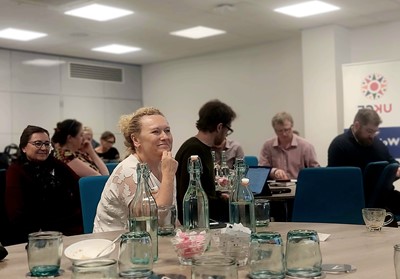 'From transaction to transformation': community foundation leaders come together in the UK
May 11 2023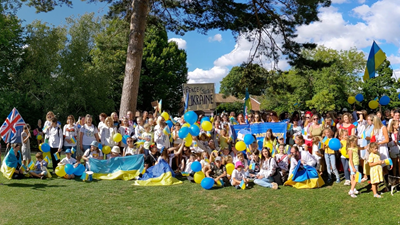 Supporting Ukrainians in the UK
March 20 2023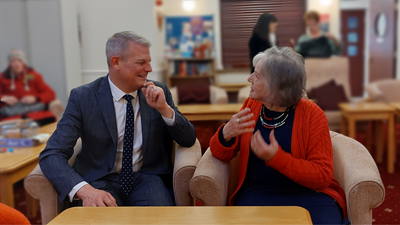 New DCMS fund to increase volunteering and reduce loneliness
March 13 2023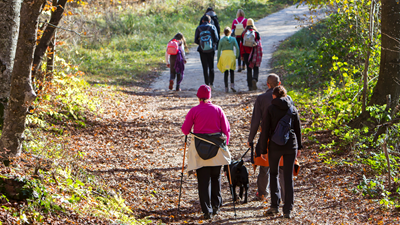 Social prescribing programmes across the north of England
March 09 2023
UK Community Foundations is a registered charity in England and Wales. Registered company in England and Wales . Registered address: Unit 1.04 Piano House, 9 Brighton Terrace, London SW9 8DJ. Registered company no. 2651777 | Registered charity no. 1004630. Copyright © 2021 All rights reserved.